Does your order not meet your expectations? No problem!
At Oxwork.com, your satisfaction is our priority. That's why we offer you 60 days from receipt of your order to return your item free of charge!
We will proceed with the refund as soon as we have received and inspected the package in our warehouse.
Refund processing takes 10 to 12 working days from the date of receipt of the parcel.
In the meantime, you can place a new order on our website to choose the most suitable items for you and not waste time.
STEPS TO FOLLOW :
CREATE AND DOWNLOAD YOUR PREPAID RETURN LABEL AND RETURN VOUCHER:
Returns are free of charge!
Log in to your account on our website oxwork.com with your access data.
Click on "my orders".
Then click on "return my order".
Select the items you wish to return by filling in the "quantity" and "reason for return" fields.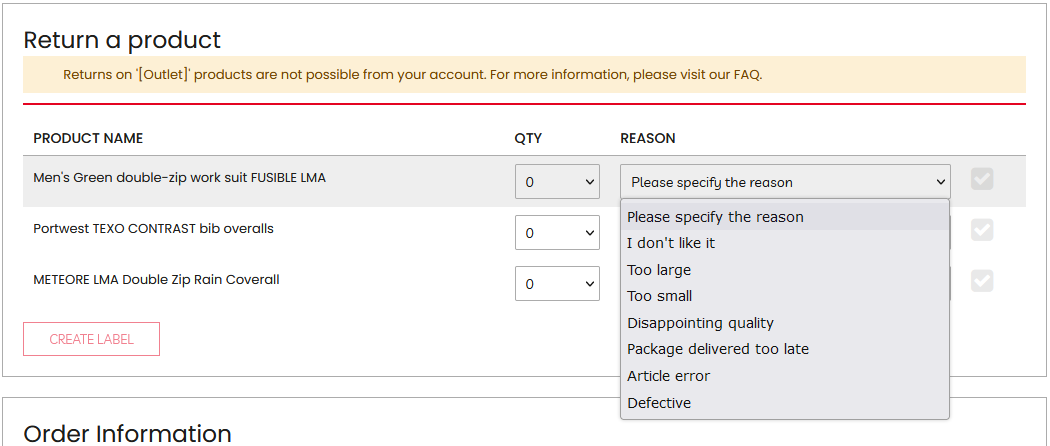 Click on "Download label".
You can download your prepaid label and return form directly (which are in the same file) and they will also be sent to you by e-mail.
ATTENTION: Only one pre-paid label will be issued per order, for orders with several items, we invite you to return the items in a single package to be refunded.
Once generated, the prepaid label is valid for 7 days.
GO TO YOUR MAILBOX :
Print your return form and prepaid label
Cut out the dotted part of the prepaid label
PREPARE YOUR RETURN PACKAGE:
Store the items in their original packaging, with the label and any accessories, in perfect condition for resale. They must not have been worn, washed or damaged.
Place the return form inside the parcel
Close the package tightly and stick the left half of the prepaid label on top (the part with the barcodes).
Keep the second half of the label to have it stamped and signed when sending the parcel
DELIVER THE PARCEL AT A POST OFFICE
You can deliver your parcel at a post office and track it thanks to the tracking number.
With the link below, you can find the list of post offices nearest to you.
https://www.parcelforce.com/branch-finder
For any further information, please contact us by phone on 01 85 09 28 33 or by e-mail at support@oxwork.com.
If you have any questions about the legal obligations that apply to distance selling, please consult the general terms and conditions of sale.